Due to county mandated COVID restrictions we're unable to offer tours. Fill out the Schedule a Tour form below for the school you are interested in to discuss alternatives to viewing a site.
Visit US
A Location is Near You
Since 1988, North Bay Children's Center programs have demonstrated success inspiring young minds and transforming the lives of thousands of children. We provide the highest quality child care and early education to more than 600 children across 14 sites in Novato, Petaluma, Healdsburg, Santa Rosa, and Sonoma.
"My son Henry has been attending the NBCC After School program for over a year. I love NBCC's curriculum that incorporates many of the educational approaches of our elementary school. I feel very lucky Henry is not only having a great time playing with friends he's met in this program, but that he is also learning valuable academic and social skills."
Christine L., NBCC Parent
"The staff at North Bay Children's Center is very special. They not only show care and concern for my child, but for me and my family as well. I can say, without a doubt, that during a difficult time this place saved my life."
Wendy N., NBCC Parent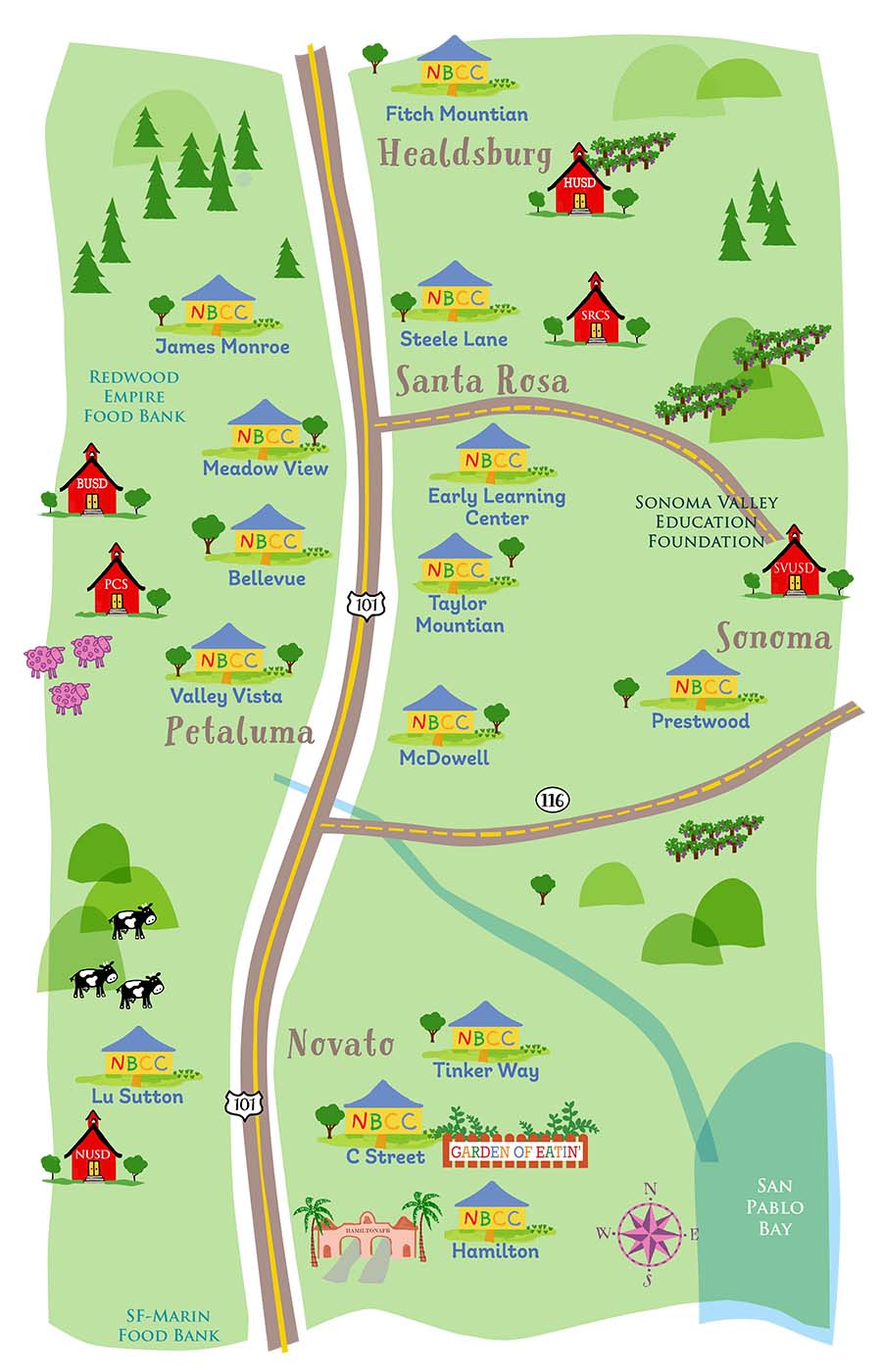 Valley Vista
730 N. Webster Street Petaluma, CA  707.789.9379
Full Year, Hours: 7:30am – 4:30pm, M-F
Full Day Preschool Ages 3-5
Site Supervisor: Christy Chum
e: cchum@nbcc.net
McDowell
405 S. McDowell Petaluma, CA 707.763.2000
Part Year, following the school district calendar
Full Day Preschool Ages 3-5
7:30am – 4:30pm, M-F

Half Day Preschool Ages 3-5
AM Preschool Hours: 8:00am – 11:00am, M-F
PM Preschool Hours: 12:00pm – 3:00pm, M-F
Site Supervisor: Morgen Montalvo
e: mmontalvo@nbcc.net
Prestwood
343 East MacArthur Street, Sonoma, CA  707.933.4050
Part Year,  following school district calendar
Half Day Preschool Ages 3-5
AM Preschool Hours: 8:00am – 11:00am, M, T, TH, F
PM Preschool Hours: 12:00pm – 3:00pm, M, T, TH, F
Wednesdays Hours: 8:00am – 11:00am
Site Supervisor:  Susan Janigian
e: sjanigian@nbcc.net
Fitch Mountain
520 Monte Vista Avenue, Healdsburg CA 707.473.4382
Full Year and Half Day following school district calendar
Half Day Preschool Ages 3-5
AM Preschool Hours: 8:00am – 11:00am, M-F
PM Preschool Hours: 12:00pm – 3:00pm, M-F
Full Day Preschool Ages 3-5
Hours: 7:30am – 5:00pm, M-F
Site Supervisor: Nicole Porter
e: nporter@nbcc.net

North Bay Children's Center
932 C Street, Novato, CA 94949 415.883.6222
14 North Bay Locations
Healdsburg • Santa Rosa • Petaluma • Sonoma • Novato